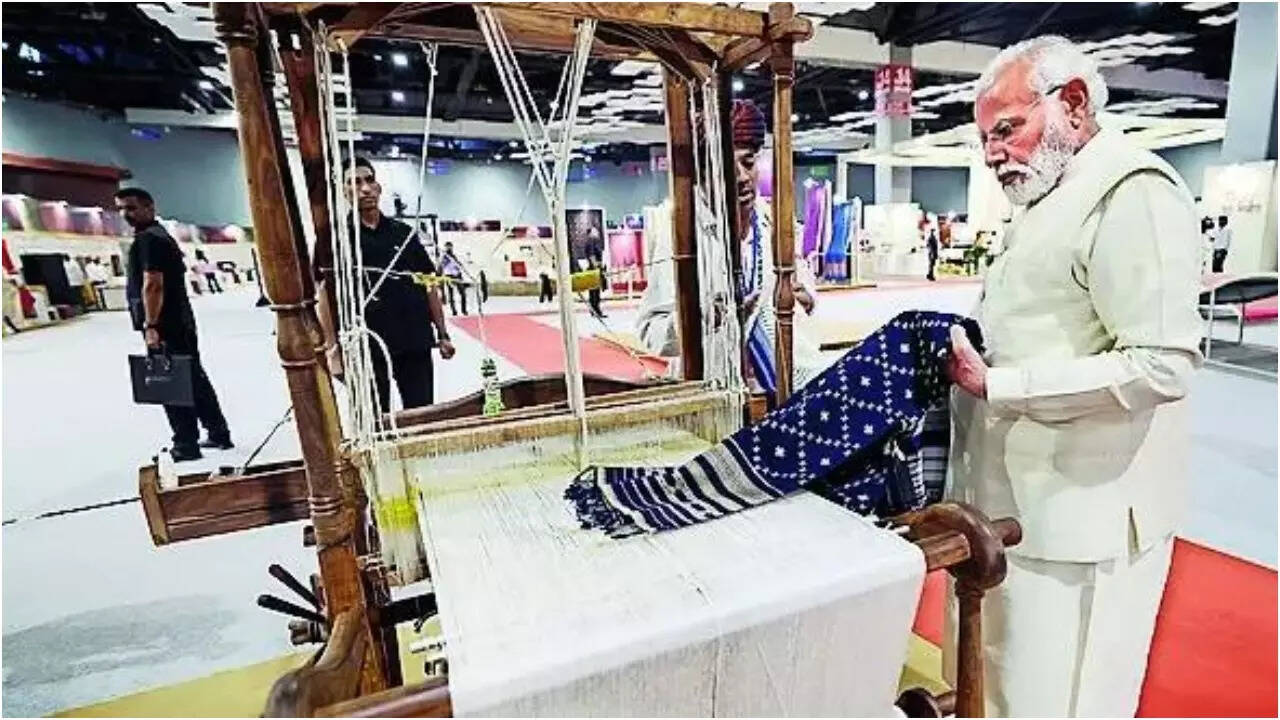 NEW DELHI: Ahead of the festival season, Prime Minister Narendra Modi invoked the 'Swadeshi' spirit to urge people to buy products that are produced domestically and urged the local industry to build a strong supply chain to cater to the demand from the emerging middle class, instead of relying on imports.
Addressing a Handloom Day event, he also hit out at the Opposition for becoming an "obstacle" to India becoming a developed country and added that there have been calls for corruption, appeasement and dynastic politics to "quit India".
"We need to renew our Swadeshi vows ahead of Raksha Bandhan, Ganesh festival and Durga Puja, Dussehra and Diwali. By doing this, we will be able to help artisans, weavers and those linked to the handloom sector," the PM said.
He said that post-Independence, the textile sector, which was very strong in previous centuries, did not get the requisite support with Khadi left on its deathbed. "Those wearing Khadi were looked down upon and after 2014, our government is making every effort to change the condition and the thinking and efforts are now showing results," Modi said.
He said Khadi production had trebled over the last nine years, while sales have jumped five-fold and added that when he was in Paris last month, he was told that there has been a massive increase in interest in Khadi and handloom. He said weavers have benefited from higher sales and income and listed out a series of measures that the government has taken to help improve skilling, design and quality. Modi said that initiatives such as GEM (government e-marketplace) and connecting with the start-up community are meant to address some of the challenges faced by the sector. He also said the government was making efforts to connect weavers and handloom sector with the international market with companies looking to source products from India. "Products will be made in India and they will use the supply chain of these multinationals. A major gain from this will accrue to everyone, including small players, associated with the sector," the PM said.
Modi said the idea was to make handlooms and Khadi "world champions" for which everyone needs to chip in, whether it was weavers, designers or industry. "You connect the skill of the weavers with the scale, connect them with technology. We are seeing the emergence of the neo-middle class and for every product, a very large consumer segment is getting created within the country. Indeed, this is a huge opportunity for the textiles sector. That's why it is essential for it to invest in building a strong supply chain. The approach to import into the country is not correct. Industry stalwarts cannot say they cannot put up a strong supply chain quickly. If we have to benefit in future, we need to invest in creating a local supply chain," he said.