Summary
"Barbinheimer" is a parody trailer that combines Barbie and Oppenheimer, portraying a vengeful Barbie seeking revenge against J. Robert Oppenheimer.
Avocado Animations, the YouTube channel behind the video, previously released a disturbing Velma parody.
Barbie and Oppenheimer are very different films, but the "Barbenheimer" double bill has been successful, with thousands of filmgoers buying tickets to both movies.
What if "Barbenheimer" was made as a single film, blending the elements of Barbie and Oppenheimer? That's a question that's answered with a new parody trailer from Avocado Animations. Titled Barbinheimer, with the alternate spelling highlighting the video's parody nature, the faux trailer imagines the Barbie and Oppenheimer mashup as a bleak revenge story. Cillian Murphy's J. Robert Oppenheimer is depicted as a more ruthless villain hellbent on destroying every Barbie and Ken, while Margot Robbie's Barbie is over being toyed with.
The video was made by Avocado Animations, the same YouTube channel that previously released a Velma parody that was no less disturbing than the Barbinheimer video. While the residents of Barbie Land are no match for the damage Oppenheimer can cause with his nuclear weaponry, the physicist might be making a mistake in underestimating what a vengeful Barbie can do in retaliation. Even Ryan Gosling's Ken appears to be horrified by what Barbie has become, but she absolutely will not stop until she comes face to face with the man responsible for the madness.
In reality, Barbie and Oppenheimer are vastly different films, and that's part of what made the "Barbenheimer" double bill so interesting to many filmgoers. Barbie, directed by Greta Gerwig, imagines Barbie and Ken traveling to the real world, only to find that they weren't prepared for its harsh realities. It's not exactly a kids' movie with its PG-13 rating, though it's a very fun and colorful film. Conversely, Christopher Nolan's Oppenheimer dives into the real life story of J. Robert Oppenheimer and how his work led to the development of the world's first atomic weapons.
Related: The Best Barbenheimer Memes That Sum Up the Two Films
Barbenheimer Has Been a Success for Barbie and Oppenheimer Alike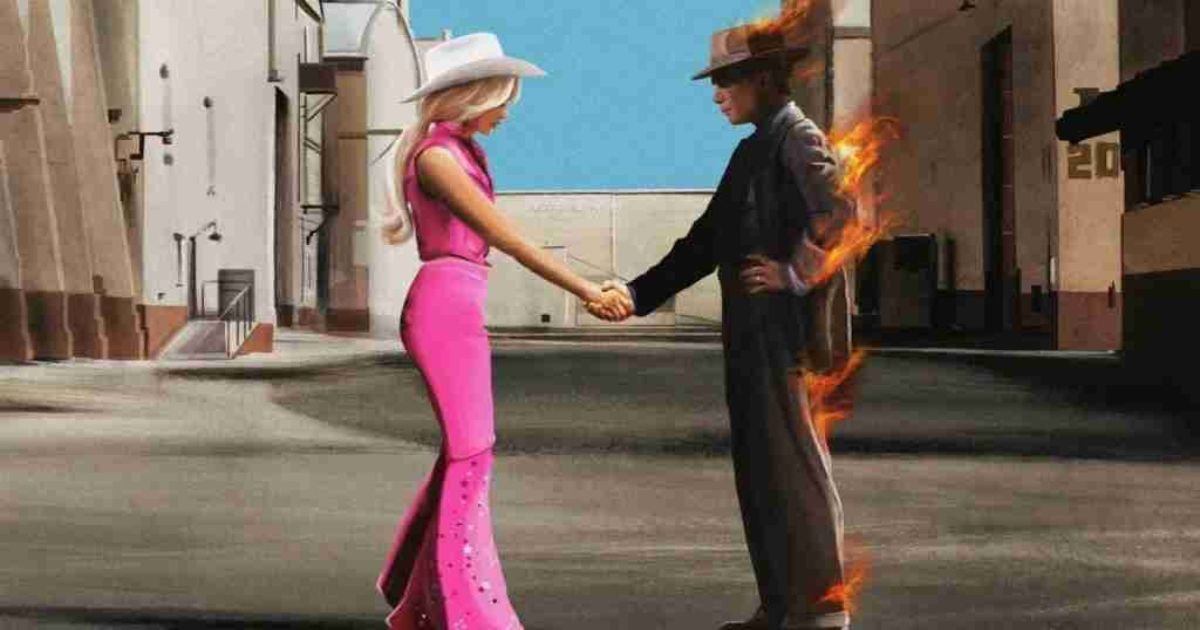 Together, Barbie and Oppenheimer have both been very successful. It was previously reported that no less than 40,000 filmgoers had bought tickets to see both films on the same day, suggesting the Barbenheimer craze contributed in a big way to the success of each movie. Barbie has been especially succcessful, however, recently surpassing the $1 billion mark at the global box office. It is currently the second highest-grossing film of the year behind The Super Mario Bros. Movie.
Oppenheimer has a more limited audience with its R rating, but the film has nevertheless surpassed expectations with its own box office performance. The film has managed to reach more than $550 million in worldwide ticket sales, becoming Nolan's fifth highest-grossing film. As with Barbie, the movie also garnered mostly positive reviews from both critics and filmgoers. Both movies could certainly be credited with helping to further revitalize the movie theater industry with such an impressive box office showing.
It's also a possibility that Barbie and Oppenheimer will cross over another way. While a sequel hasn't been officially announced, Oppenheimer's Cillian Murphy has teased that he'd be open to playing a Ken in Barbie 2. It's unlikely Oppenheimer will get a sequel, so that may be the closest Barbie and Oppenheimer will get to a genuine crossover.
Barbie and Oppenheimer are both playing in movie theaters.