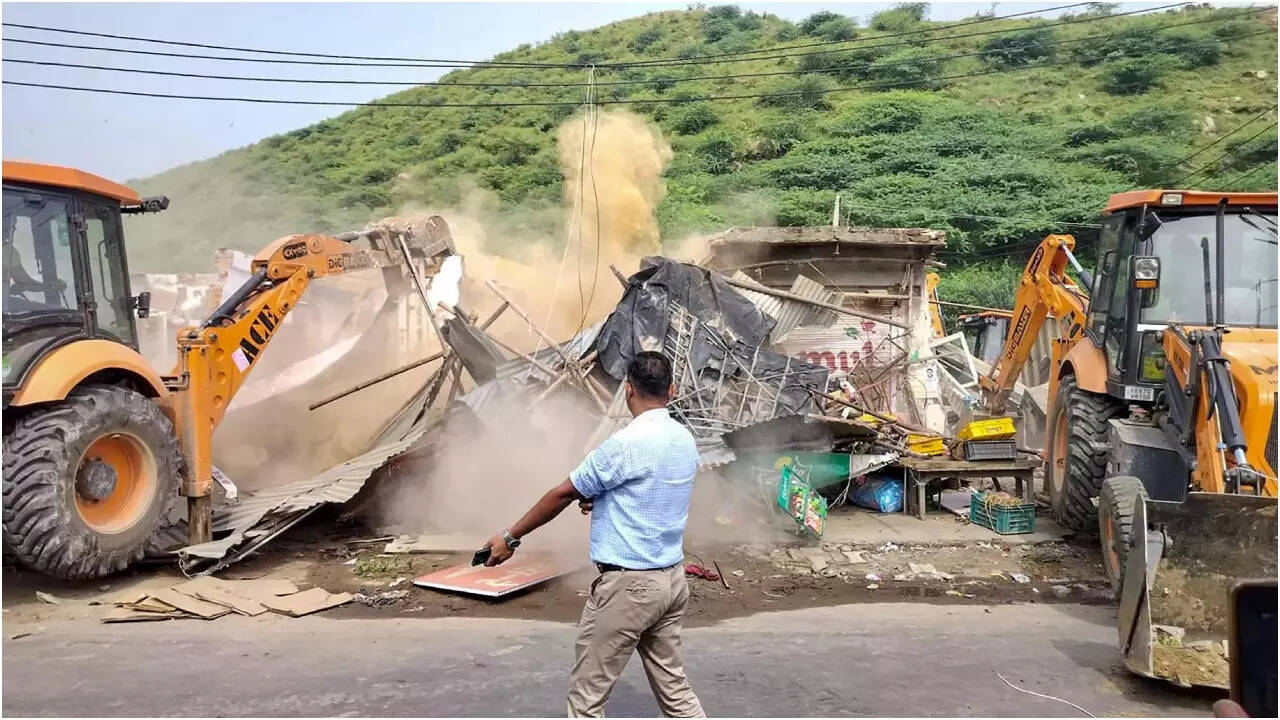 CHANDIGARH: Bulldozers were halted in Nuh on Monday on what would have been the fifth day of demolition of properties with alleged links to rioters after the Punjab and Haryana high court took suo motu cognisance of newspaper reports and stepped in.
A division bench of justices G S Sandhawalia and Harpreet Kaur Jeewan observed that apparently, without any demolition orders and notices, the law-and-order problem was being used as a ruse to bring down buildings without following due process of law.
"The issue also arises whether the buildings belonging to a particular community are being brought down under the guise of law-and-order problem and an exercise of ethnic cleansing is being conducted by state. We are of the considered opinion that the Constitution of India protects the citizens of this country and no demolition as such can be done without following the procedure prescribed in law," Justice Sandhawalia observed.
The court restrained the Haryana government from carrying out any such demolition drive if procedure is not followed as per the law. In the demolition drives that began in Nuh last Thursday as the government began a crackdown on those allegedly involved in the July 31 communal clashes when a mob targeted a religious yatra, Nuh administration sources said about 350 structures have been razed so far.
Taking strong exception to statements made by state home minister Anil Vij that bulldozers were part of the "ilaaj (treatment)" since the government was probing communal violence, the high court quoted British historian Lord Acton and observed, "Power tends to corrupt and absolute power corrupts absolutely."
Referring to the media reports on bulldozer drives in Nuh, the court said, "The action is stated to be on account of the fact that the individuals involved in the anti-social activities had made illegal constructions. The said news item would go on to show that buildings next to the hospital in the form of commercial buildings, residential buildings, restaurants which were in existence for a long time have been brought down by bulldozers."
While issuing a notice to the Haryana government, the bench directed the authorities to furnish an affidavit as to how many buildings have been demolished in the last two weeks, both in Nuh and Gurgaon, and whether any notice was issued before the demolitions. It scheduled the next hearing on August 11 and also appointed advocate Kshitij Sharma as amicus curiae to assist the court on the issue.
Nuh deputy commissioner Dhirendra Khadgata told TOI the demolition has been stopped after the court order. "The court has asked whether due process has been followed for demolition and directed the government to file a reply by August 11. We have followed the due process and will file our reply accordingly," he said.