NEW DELHI: Rahul Gandhi returned as Lok Sabha MP on Monday as Speaker Om Birla reinstated his membership.
The Congress leader was disqualified as an MP after a Surat court found him guilty in the 'Modi surname' remark case in March 2023. He was handed a maximum sentence of two years' imprisonment.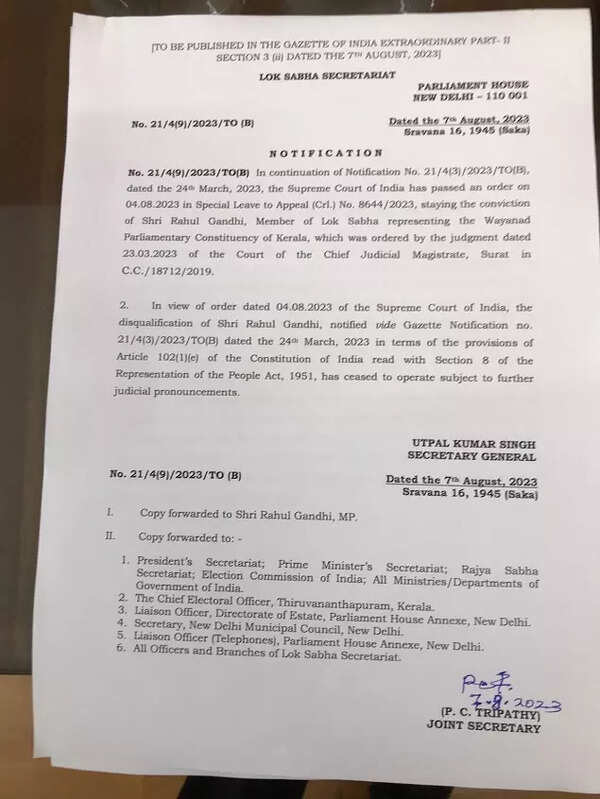 The Supreme Court on August 4 stayed the conviction of the former Congress president, thus paving the way for restoration of his Lok Sabha membership.
The return paved the way for Rahul Gandhi's participation in the no-confidence motion discussion, which is to begin on August 8, and continue till August 10.
Staying his conviction, the top court had said that the trial court did not give reason to justify maximum sentence of two years to Rahul which resulted in his diqualification as MP. 04:07
'Utterances not in good taste but…': Why Supreme Court granted relief to Rahul Gandhi in Modi surname case
'Ramifications of the trial court's order are wide. Not only was Rahul Gandhi's right to continue in public life affected but also that of the electorate who elected him," the apex court said.
The Supreme Court, however, observed that the statement made by Rahul was not in good taste and people holding public office should maintain restrain and caution.