Summary
The original Sharknado film will be screened in theaters on its 10th anniversary, giving fans a chance to see it on the big screen.
The film has been fully remastered and will include "hundreds of new special effects," promising more kills, thrills, sharks, and tornadoes.
The franchise has been successful due to its escapism and fantasy elements, bringing a healthy fear of sharks to life in a different environment.
Sharknado, the franchise-spawning cult classic that finally combined sharks with tornadoes, is coming to the big screen this month. Per THR, it's been revealed that The Asylum will screen the original Sharknado in theaters on Aug. 15 and 16 in honor of the film's 10th anniversary. Sharknado originally premiered on Syfy in the summer of 2023, and due to its popularity, it would later be given special screenings in theaters. The upcoming return will give fans a chance to catch the film on the big screen if they missed the previous screenings.
What's more is that this version of Sharknado has been upgraded. The film has been fully remastered and is set to include "hundreds of new special effects." That means more kills and thrills along with "more sharks" and "more 'nado." A trailer promoting the release has also been dropped by The Asylum, and you can check that out below.
Thunder Levin wrote the screenplay for Sharknado, which was directed by Anthony C. Ferrante. The movie stars Tara Reid, Ian Ziering, John Heard, Jaason Simmons, and Cassie Scerbo. In the film, a hurricane fishes a variety of hungry sharks from the ocean, raining them down on the terrorized citizens of Los Angeles. The movie fully embraces its over-the-top concept, as it's perhaps even more wild than one would expect, and yet it was embraced for what it was, finding instant success with fans.
Related: Every Sharknado Movie, Ranked
Sharknado Channels Barbie With 10th Anniversary Poster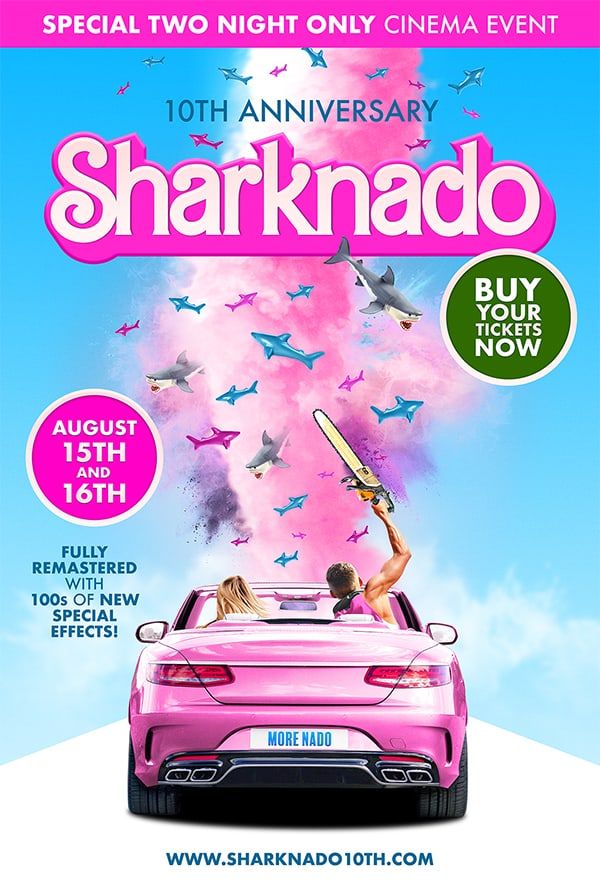 The Asylum has also poked some fun at Barbie with the release of a 10th anniversary poster for Sharknado. The poster features Sharknado characters cruising in a pink convertible with a license plate that reads, "MORE NADO." They're heading toward a pink tornado that's throwing around a mix of sharks, including some that are blue and pink. The Sharknado title has also been stylized to resemble the Barbie logo, as if the references were not obvious enough.
Sharknado was given several sequels, releasing a new installment each year following the release of the first film in 2013. That was followed by Sharknado 2: The Second One in 2014, Sharknado 3: oh Hell No! in 2015, Sharknado: The 4th Awakens in 2016, Sharknado 5: Global Swarming in 2017, and The Last Sharknado: It's About Time in 2018. It's worth noting that the series also has three spinoffs: 2015's Lavalantula, 2016's 2 Lava 2 Lantula, and 2022's 2025 Armageddon.
"Sharknado is so popular [because] it's escapism, it's fantasy," star Ian Ziering said of the franchise's success in a 2021 interview with the Washington Post. "Everyone has a healthy fear of sharks, because we don't see them and there's a tremendous amount of mystery involved. We brought them to life and put them in a different environment."
Admitting that he was hesitant to take on his role for the bizarre film, Ziering added, "It just taught me a lesson me not to really judge a book by its cover. Just to be open to whatever the universe has for me, and don't rush to make decisions that could have lifelong consequences."
Sharknado returns to theaters on Aug. 15 and 16, 2023.