Summary
Will Byers will take center stage in Stranger Things season five.
Noah Schnapp, who plays Will, has been entrusted with spoilers for the final season, but has a tendency to reveal secrets.
Production on season five is currently on hold due to industry strikes.
While we await the fifth and final season of Stranger Things, co-creator Ross Duffer has revealed further details regarding what audiences can expect for the series' last hurrah. And it heavily involves Noah Schnapp's Will Byers. Speaking with Variety, Duffer declared that Stranger Things season five will see Will at its center, bringing the character to the forefront after taking something of a backseat for the majority of the show so far.
"Will really takes center stage again in 5. This emotional arc for him is what we feel is going to hopefully tie the whole series together. Will is used to being the young one, the introverted one, the one that's being protected. So part of his journey, it's not just sexuality — it's Will coming into his own as a young man."
Of course, with Will being so integral to the final outing of Stranger Things, the Duffer Brothers have had to trust Schnapp with many a spoiler. Something that, considering his track record, comes with certain risks. But risk it they have, with Matt Duffer revealing that Schnapp was told not be "a Tom Holland."
"We sent him the first three scripts for Season 5. I texted him and said, 'Just don't be a Tom Holland here.' He laughed about it and said, 'Of course not.' And then he immediately put something on TikTok about them. But you can never be mad at Noah. He's a sweet kid. He can't help himself."
RELATED: Stranger Things: Joe Keery's Best Moments as Steve (So Far)
Stranger Things Season 5 Is Currently on Hold Amid Industry Strikes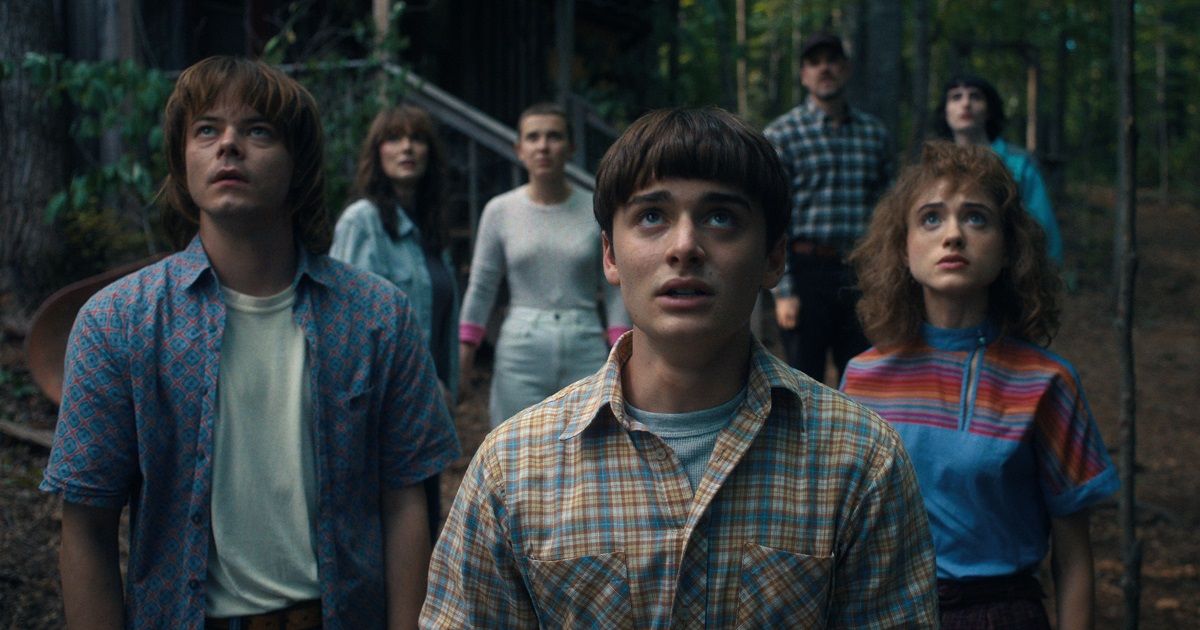 This is not the first time that the Duffers have affirmed how crucial Will will be in season five. "Will's going to be a big part and focus, is really all I can say of Season 5, in his journey," Matt Duffer said last year. "We're starting to see his coming of age, really. Which has been challenging for a number of reasons, some of which are supernatural. But you're starting to see him come into his own."
Further details for the fifth season of Stranger Things remain largely a mystery, however it has been confirmed that it will see the return of Jamie Campbell Bower as Vecna, a powerful being from the Upside Down who has shocking links to Eleven.
Unfortunately, the return of the Stranger Things gang will take a little longer than expected, with production on Stranger Things season five now on hold due to the strikes that currently taking place across the industry. "Writing does not stop when filming begins," Stranger Things creators The Duffer Brothers said in a joint statement at the beginning of the Writers Guild of America strike. "While we're excited to start production with our amazing cast and crew, it is not possible during this strike. We hope a fair deal is reached soon so we can all get back to work. Until then — over and out."
Stranger Things season five will see the large ensemble cast return, including Winona Ryder, David Harbour, Millie Bobby Brown, Finn Wolfhard, Gaten Matarazzo, Caleb McLaughlin, Noah Schnapp, Sadie Sink, Natalia Dyer, Charlie Heaton, Joe Keery, Maya Hawke, Priah Ferguson, Brett Gelman, Matthew Modine and Paul Reiser, with The Terminator star Linda Hamilton recently cast in an undisclosed role.
The first episode of Stranger Things season five will be titled "Chapter One: The Crawl."