Summary
Actor Thomas Haden Church believes that his return as Sandman in Spider-Man: No Way Home contributed to his casting as Agent Stone in Twisted Metal.
Church sees similarities between Sandman and Agent Stone, both being complex characters shaped by their environment, and appreciates the comparison.
In Twisted Metal, Church's character, Agent Stone, is a ruthless enforcer in a post-apocalyptic world, driven by a sense of justice and law, though his methods can be harsh.
Actor Thomas Haden Church says his role as the antagonist in Peacock's Twisted Metal series was most likely because of his recent return to the role of Sandman. In Sam Raimi's Spider-Man 3, released in 2007, Church played the supervillain Sandman, a foe to Tobey Maguire's Spider-Man. In late 2021, Church reprised the role for the crossover film Spider-Man: No Way Home, returning alongside Maguire's incarnation of Spidey. An immense success, the film was still enjoying its theatrical run when the casting process began for Twisted Metal, and Church is convinced that his Sandman return was what put him into the conversation for the role of Agent Stone.
Speaking with WrestleZone prior to the SAG-AFTRA strike, Church was asked about the comparison between Sandman and Agent Stone, as both characters were created as a "product of their environment," rather than your ordinary, two-dimensional evil villains. Figuring that must have been what the Twisted Metal team was thinking as well, Church said, "It's funny you say that. I don't think it's an accident they thought of me because [Spider-Man: No Way Home] was still in theaters when this was being cast. It's the same studio. I have a feeling that maybe somebody was like, 'Whoa, what about Thomas for Agent Stone?'"
The actor added, "But I appreciate that comparison because I'm very proud of Flint Marko and his integrity as a father. Agent Stone, he really is kind of this self-made father of justice or law and order, the destroyer of mayhem. So that's an interesting comparison. Nobody else has said that."
Related: Will Arnett on Voicing Twisted Metal's Killer Clown Sweet Tooth: 'It Was a Real Challenge'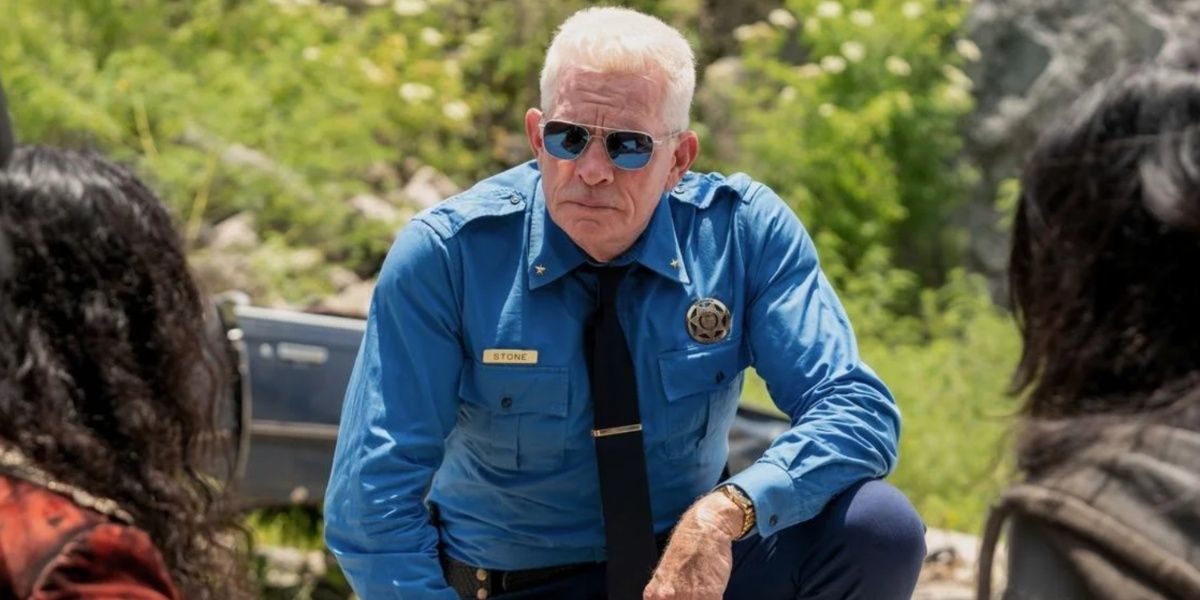 In Twisted Metal, Church plays Agent Stone, the primary antagonist. The character's backstory is revealed in various flashback scenes, explaining how the lawman has come to be such a ruthless enforcer in that post-apocalyptic world. Apprehended survivors deemed criminals in the eyes of Agent Stone are branded with his badge if they're lucky enough to be spared with their lives. Stone's brutality is further put on display when the character drives a custom police cruiser outfitted with armor and firepower, looking straight out of the video games.
"If you're a lawbreaker, a criminal, or somebody that he decides is a criminal? Yeah, he can be harsh, to say the least," Church also said of his character in a CBR interview. "But in his mind, he is bringing justice, and he's bringing law and order. He's reforming society to the way that it was, knowing that it can never really go back to that. Because the story picks up twenty years after. You meet him in his orbit as his kind of original self. But he's not a villain. He doesn't do villainous things. He does homicidal things. He does it in — in his mind — the pursuit of law."
Based on the video game series, Twisted Metal was developed for Peacock by Rhett Reese, Paul Wernick, and Michael Jonathan Smith. The cast also includes Anthony Mackie as John Doe, Stephanie Beatriz as Quiet, Neve Campbell as Raven, and Joe "Samoa Joe" Seanoa as Sweet Tooth with Will Arnett providing the killer clown's voice.
You can stream Twisted Metal on Peacock, while Spider-Man: No Way Home can be found streaming on Starz.