Summary
Timothy Olyphant reflects on auditioning for Iron Man and losing the role to Robert Downey Jr.
Olyphant praises Favreau and expresses respect for him, citing their conversations about the role as enjoyable and fond memories.
Although Olyphant did not become Tony Stark, he eventually landed the role of Cobb Vanth in The Mandalorian, a project directed by Favreau.
Justified and Deadwood star Timothy Olyphant has reflected on auditioning for the role of Tony Stark, aka Iron Man in the Marvel Cinematic Universe, and what it was like to lose the role to Robert Downey Jr. Speaking recently on The Playlist's Bingeworthy podcast, Olyphant revealed his thinking process behind going for the Iron Man role, before heaping praise on director Jon Favreau.
"I can only tell you that I remember thinking that was the first time where, because I'm a bit of a slow learner and I think I was scared to death of the things that come with success in this business, but that was the time where I remember thinking, 'Well, I can't get any more grounded and so this would be fun.' I think prior to that I was like, 'Oh, I don't want those kinds of problems.' And I think part of that appeal was those conversations that I had with [Jon] Favreau – I just have a tremendous amount of respect for him and I just like the guy. He's just a good dude."
Despite not winning what turned out to be the decade-spanning, iconic role of Iron Man, Olyphant holds no ill will towards the decision or Favreau. Especially after eventually landing the role of Cobb Vanth in the Star Wars series The Mandalorian.
"And so, if you're going to go down that road, you're not going to find anyone better to go down it with, so I have fond memories of that experience, you know? I try to see things simply for what they are and not what they could be and any conversations I had with Jon about that job and about that process, I remember it very fondly. It was an enjoyable process…And, well, he's the one who hired me for ['The Mandalorian'], so he doesn't owe me anything."
RELATED: Iron Man: 6 Actors Almost Cast as Tony Stark in the MCU
How Would Timothy Olyphant Have Fared as Iron Man?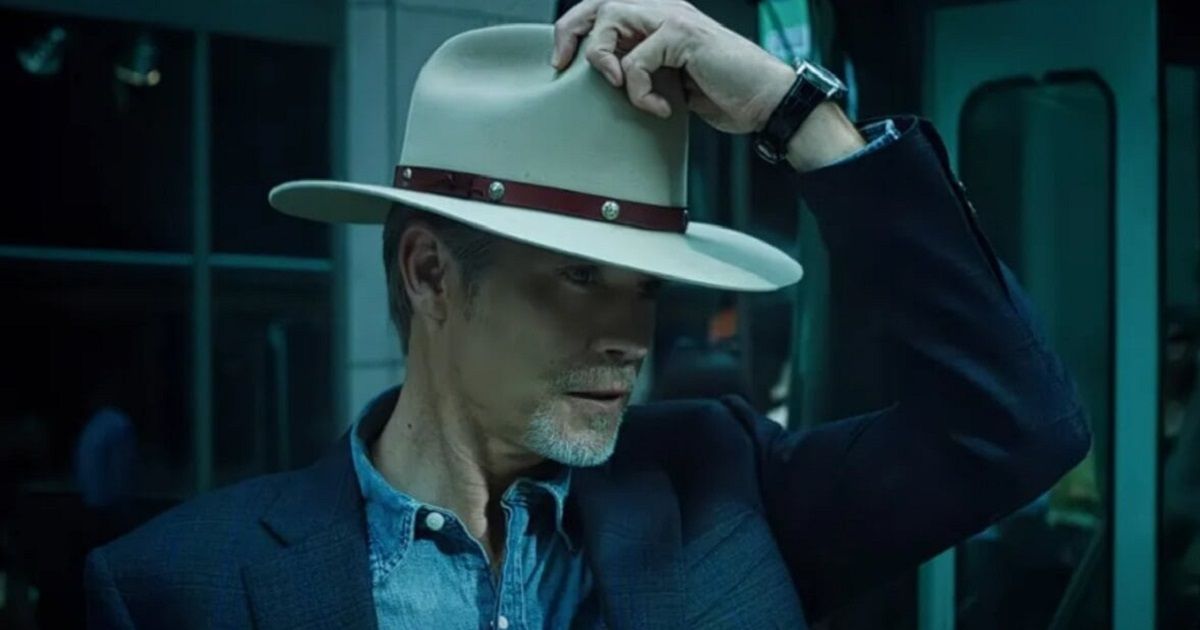 While Robert Downey Jr. Has become so synonymous with the character of Tony Stark that it's almost impossible to imagine anyone else in the role, if you try really hard, it's certainly intriguing to consider how Olyphant would have fared as the head of the MCU. The actor undeniably has the charm and the chops to slip into the Iron Man suit, but he no doubt would have given audiences a very different version of the character. More stoic and with a lot less amusing quips and comedic improvisation.
Though we'll never see it on screen, somewhere out there in the madness of the multiverse, audiences could well be purchasing a commemorative Funko Pop of Olyphant's Iron Man.
Timothy Olyphant recently returned to one of his most iconic characters, Raylan Givens, in the sequel series Justified: City Primeval. Premiering last month on FX, Justified: City Primeval finds the no-nonsense U.S. Marshal heading to Detroit to pursue the violent killer The Oklahoma Wildman, who has been eluding the Detroit police force for years.
Justified: City Primeval was met with positive reviews from critics, with Olyphant expressing his desire to return for more should Raylan Givens' return be met well.