Summary
TMNT: Mutant Mayhem introduces fresh versions of the iconic characters, including a teenage April O'Neil voiced by Ayo Edebiri.
Character designer James A. Castillo shares early sketches of alternate designs for April, aiming to make her relatable while retaining her iconic details.
Edebiri's portrayal of April as a teenager allows for a deeper exploration of the character's growth and inexperience, adding a refreshing dynamic to the film.
Paramount has rebooted Teenage Mutant Ninja Turtles with the all-new film TMNT: Mutant Mayhem, which introduces fresh incarnations of the franchise's fan-favorite characters. Along with all four of the titular turtles, a new version of April O'Neil is included, voiced by The Bear star Ayo Edebiri. After the film's release, character designer James A. Castillo took to X (formerly Twitter) to share some early sketches of alternate character designs for April before landing on the final version seen in the film.
"When I joined [TMNT: Mutant Mayhem] my first assignment was to work on April [O'Neil]. NO PRESSURE," Castillo writes in the X post. "We tried making her relatable and grounded in the real world while keeping some of the details that make her so iconic. I personally love her in the film."
The early sketches differ from one another, along with the final version, though April's appreciation for yellow clothing is one aspect that remains consistent. Something that's new with Edebiri's O'Neil is that she's a teenager this time around, though she's been traditionally portrayed as an adult. Going this route also allowed for Edebiri to dive deeper into the character's history, doing something new with April not seen in previous movies.
"I definitely think that it gave me a lot more space to play and interpret the character, to give her an arc of growth as she's not this totally capable adult who knows how to help them," Edebiri said of playing a teen April, per GamesRadar. "She doesn't know what she's doing. She has a lot of ideas, drive, and heart but she's ultimately a teenage girl at high school. It was really fun for me to play!"
Related: Every Teenage Mutant Ninja Turtles Movies, Ranked by Rotten Tomatoes
Ayo Edebiri Speaks Highly of Mutant Mayhem's Artwork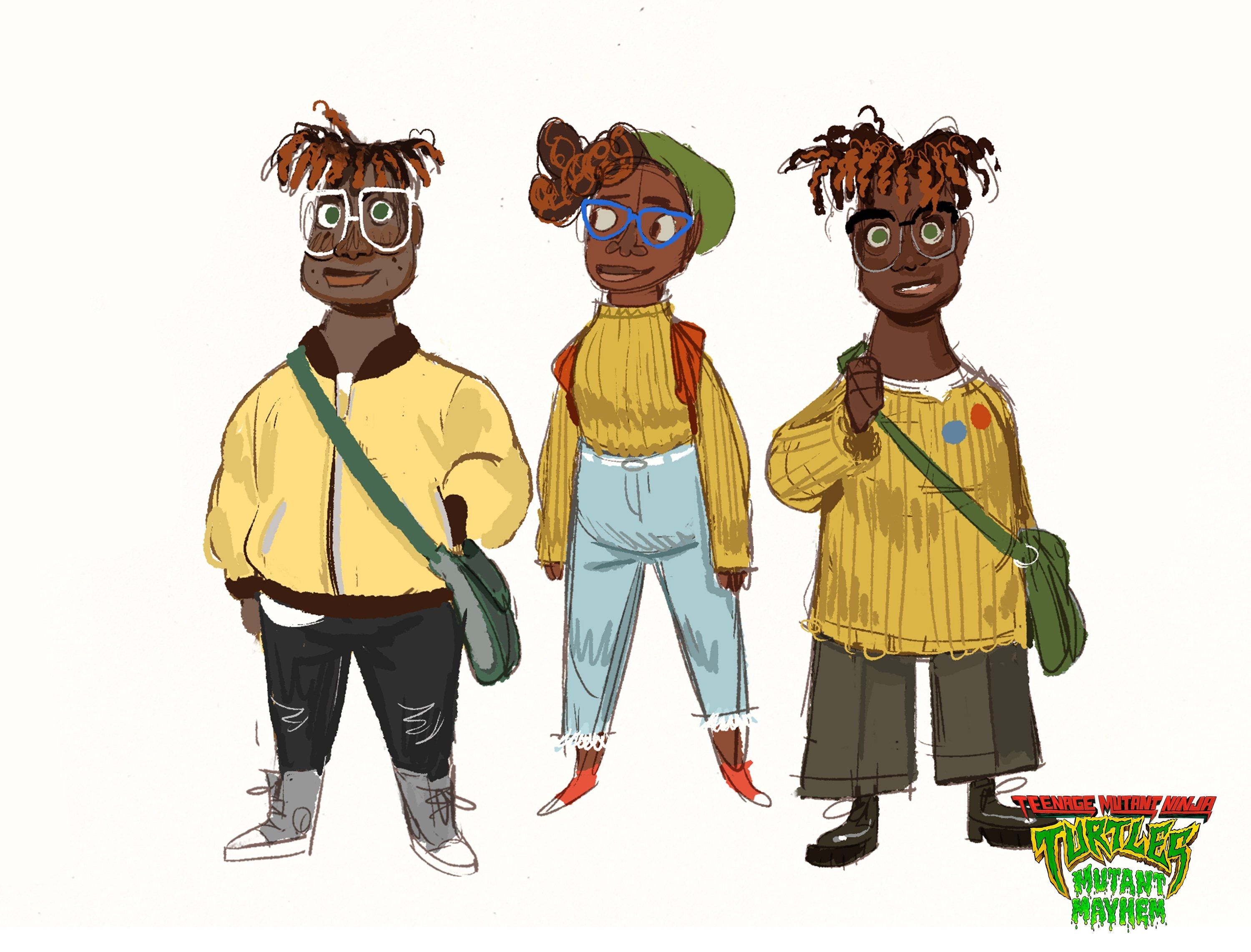 "I remember when I first met Jeff [Rowe, director] he was showing me art done by actual teenagers, telling me how that played a lot into the process of creating these characters," Edebiri also said about seeing the artwork for the first time. "I love that the art style feels so evocative and fresh, and getting to see April be a young Black girl, that's so cool. There is something that feels very youthful to me about the art, how it's like a drawing, the sketchiness of it, the colours, the use of light. It feels very young and it was helpful for me to see that, to know who I was breathing life into."
Along with directing, Rowe co-wrote the screenplay for TMNT: Mutant Mayhem alongside Seth Rogen, Evan Goldberg, Dan Hernandez, and Benji Samit; Brendan O'Brien contributed to the story. Alongside Edebiri as the voice of April O'Neil, the film also stars Shamon Brown Jr. as Michelangelo, Micah Abbey as Donatello, Nicolas Cantu as Leonardo, and Brady Noon as Raphael. Other names rounding out the voice cast include Jackie Chan, Ice Cube, John Cena, Paul Rudd, Maya Rudolph, Rose Byrne, and Giancarlo Esposito.
Teenage Mutant Ninja Turtles: Mutant Mayhem is now playing in movie theaters.