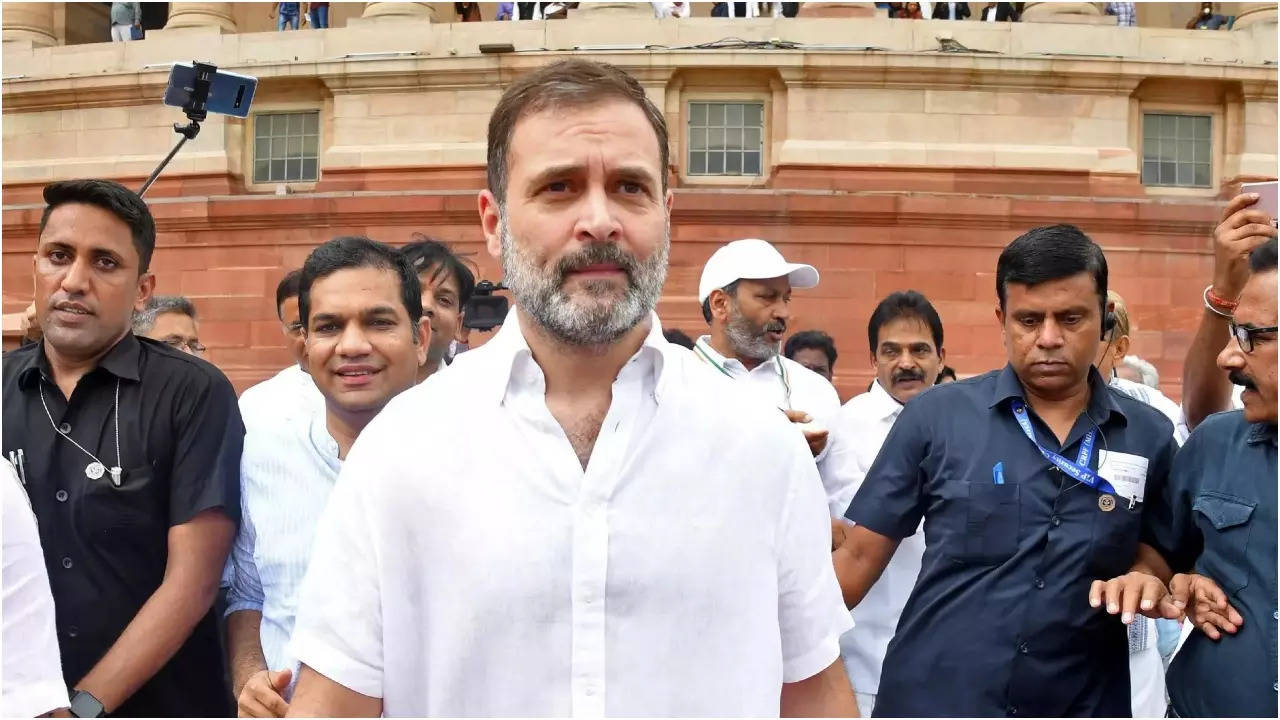 NEW DELHI: Four months after he was disqualified, Rahul Gandhi returned to Parliament to a hero's welcome from his party, with his membership of the Lower House restored following the Supreme Court staying his conviction in a defamation case. The former Congress chief is now set to be the INDIA bloc's opening speaker during the debate on the no-confidence motion scheduled to begin on Tuesday.
Announcing the reinstatement of Rahul as an MP, a Lok Sabha notification said in view of the SC order on Friday, the disqualification has ceased to operate subject to further judicial pronouncements.
News that his suspension had been revoked came around 10.30am, just when the INDIA bloc had come together for its daily all-party meeting. The announcement was received with loud cheers both inside and outside Parliament. At the INDIA meeting, the announcement was celebrated with Congress president Mallikarjun Kharge passing around several boxes of sweets and feeding all INDIA allies.
Describing the notification as a "welcome step" that brings relief to the people of India, especially Wayanad which Rahul represents in the House, Kharge said, "Whatever time is left of their tenure, BJP and Modi government should utilise that by concentrating on actual governance rather than denigrating democracy by targeting opposition leaders." Rahul is now set to open the debate in the Lok Sabha on the no-trust motion followed by party colleagues Gaurav Gogoi and Manish Tewari who are expected to speak after him.
Rahul arrived in Parliament shortly before noon to a rousing welcome from all Congress MPs and several INDIA leaders in the Parliament foyer, and proceeded to offer floral tributes to Mahatma Gandhi's statue before entering the House to attend proceedings.
Inside Parliament, he met his mother and Lok Sabha MP Sonia Gandhi in her office, and also visited the Central Hall, where he interacted briefly with NCP chief Sharad Pawar and Shiv Sena (Uddhav Thackeray faction) leader Sanjay Raut. He also paid respects to former Tamil Nadu CM M Karunanidhi on his death anniversary at the DMK party office in Parliament.
He also posted a video of his first day after returning as an MP. "Returned to Parliament today after paying obeisance to Bapu (Mahtama Gandhi)," Rahul said on Twitter.
Later in the day, when Rahul reached Congress headquarters to attend a meeting of Haryana leaders for the poll preparations, he quipped to the waiting media, "It is a strange thing, even you people look happy".
INDIA allies, who had thrown their collective weight behind the Congress as it sought Gandhi's reinstatement, also cheered his return to the House, with Bihar CM Nitish Kumar, RJD's Tejashwi Yadav, and Samajwadi Party chief Akhilesh Yadav among others, welcoming his return. Akhilesh Yadav also said he hoped the Uttar Pradesh assembly would restore the membership of party leader Mohammad Azam Khan and his son Abdulla Azam, just as Parliament had done in Rahul's case.
Jammu and Kashmir National Conference chief Farooq Abdullah, meanwhile, welcomed Rahul's return and said he was hopeful "he will strengthen India and will try to rid the country of its problems."
Peoples Democratic Party president Mehbooba Mufti also congratulated Rahul and said she is looking forward to seeing him "roaring like a lion" in Parliament on public issues.
Meanwhile, Rahul, who had changed his Twitter bio to Dis'Qualified MP, restored his profile as 'Member of Parliament' and member of the Indian National Congress. While his perks and salary as MP stand immediately restored, there remains lack of clarity over the restoration of his official bungalow — whether he will get 12 Tughlaq Lane again, or if he will be allotted a different house.