Summary
Aqua, the group behind the popular 90s song "Barbie Girl," was surprised that their song was used in Greta Gerwig's new film, Barbie.
Despite facing a copyright lawsuit from Mattel for damaging Barbie's brand, Aqua's song was cleared by court and later used in a family-friendly version for a Barbie commercial.
Aqua members were flattered by the use of their song in the film and also collaborated with Nicki Minaj and Ice Spice recently.
Aqua, the Scandinavian pop group behind the popular 90s tune "Barbie Girl" recently revealed that they were surprised their song was a part of Greta Gerwig's new film, Barbie, considering the lyrics for "Barbie Girl" were once part of a copyright lawsuit. While speaking to The Guardian about their controversial tune, the band reflected on their No. 1 hit "Barbie Girl" being sampled by rappers Nicki Minaj and Ice Spice for the song "Barbie World."
"Barbie Girl" was first released back in 1997 and sold more than 8 million copies worldwide. The CD booklet for the tune stated, "The song Barbie Girl is a social comment and was not created or approved by the makers of the doll."
Even so, the song's lyrics still became the subject of a lawsuit from Mattel who alleged that lyrics like "I'm a blonde bimbo girl in a fantasy world" and "kiss me here, touch me there, hanky panky" damaged Barbie's brand. But, in the end, a court dismissed the claim, and later in 2008 Mattel was using a family-friendly version of the song for their Barbie commercial.
According to the band's keyboardist Søren Rasted, the song's tagline "life in plastic / it's fantastic" came to them while visiting an art gallery. Rasted said, "The hook line came like this. The melody followed the song: it's usually not that way, you usually write the music before the lyrics."
Aqua went on to reveal their thoughts on a sample of "Barbie Girl" appearing in Gerwig's new movie, considering their rocky past with Mattel.
RELATED: Barbie: The 10 Most Relatable Moments, Ranked
Lene Nystrøm said that Aqua "Totally Understood That They Wanted Something Fresh and New"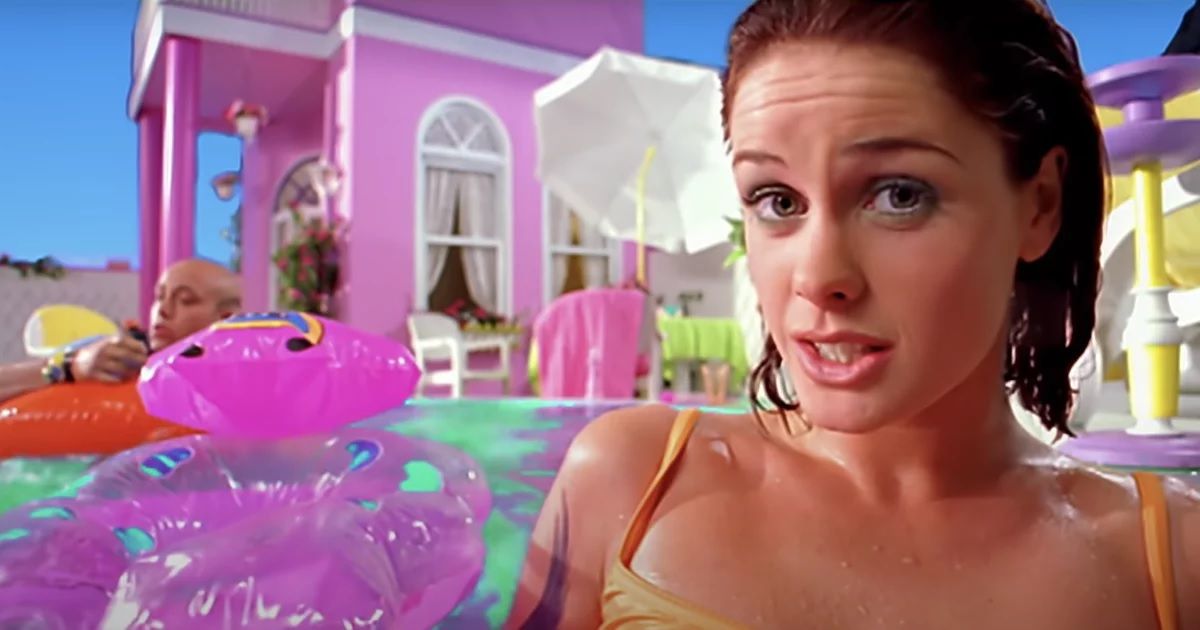 Lene Nystrøm, the group's lead female vocalist, said:
"We thought it would be like butter on bacon. We totally understood that they wanted something fresh and new."
Nystrøm continued, adding:
"And then, just two months ago, we were asked to do the [Nicki Minaj and Ice Spice] collab. It happened really quickly."
Aqua's male lead vocalist René Dif chimed in to add, "It's just nice to have Mattel come to us and say: 'Hey, that's cool.'"
It has since been noted by CBR noted that it was Margot Robbie (who stars as the iconic child's toy in Gerwig's new film) who was behind the use of Aqua's song in the movie's soundtrack. While speaking to Rolling Stone, Robbie said, "I was like, 'Greta, how are we going to incorporate this song? We can't do a Barbie movie and not have a nod to Aqua's "Barbie Girl." It has to be in there.' And [Greta] was like, 'Don't worry, we're going to find a cool way to incorporate it.'"
In addition to Robbie Barbie also stars Ryan Gosling as Ken, as well as Kingsley Ben-Adir, Scott Evans, Simu Liu, and Ncuti Gatwa (as other versions of Ken). There's also Hari Nef, Emma Mackey, Dua Lipa, Ana Cruz Kayne, Sharon Rooney, Kate McKinnon, Nicola Coughlan, Alexandra Shipp, Ritu Arya, and Issa Rae taking on other versions of Barbie. Emerald Fennell and Michael Cera also make appearances as Midge and Allan. Non-Barbie characters in the movie include America Ferrera, Ariana Greenblatt, Helen Mirren, Connor Swindells, Jamie Demetriou, and Will Ferrell.
Barbie is now playing in theaters.