NEW DELHI: The Supreme Court on Tuesday firmly said there is no question of a 'referendum' relating to Jammu and Kashmir's accession or application of the entire Constitution through the nullification of Article 370 to end the state's 70-year-long special status and its bifurcation into two Union Territories on August 5, 2019.
J&K National Conference leader Mohd Akbar Lone attempted to bring up 'referendum' to substantiate his argument that the will of the people of J&K was not taken into consideration before neutering Article 370, which had acquired permanent status after the lapse of J&K Constituent Assembly (CA) in 1957.
Lone's counsel Kapil Sibal read out the speech given in the J&K CA by then chief minister Sheikh Abdullah.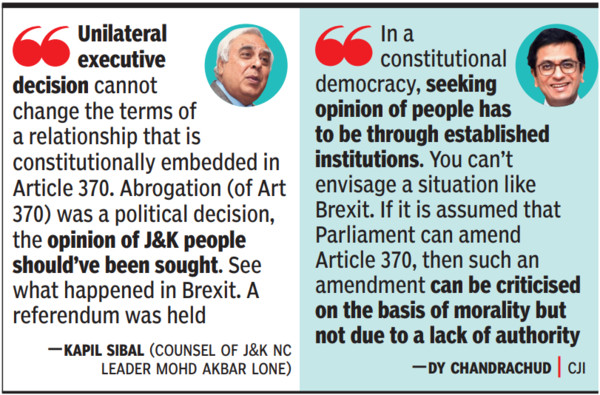 "The constitution of the Indian Union, therefore, clearly envisaged the convening of a Constituent Assembly for the J&K state, which would be, finally competent to determine the ultimate position of the state in respect of the sphere of its accession which would be incorporated as permanent provision of the Constitution," Sibal said quoting Abdullah.
Sibal alluded to repeated reference in the J&K CA debates to the 'will of people of J&K' in determining the state's relations with respect to India and said that is why while other states were quasi-federal in nature, J&K was truly federal as it had residuary powers with the state assembly and also enjoyed a special status even under the Indian Constitution.