VIKARABAD: Next time we meet, I could be selling tomatoes for 20 a kg, joked N Venkataiah from Vikarabad's Mallepally village – a little over 100km off Hyderabad – as his other 'colleagues' nodded in agreement. And while it sounds implausible today, given the vegetable is still selling at 180 to 200 a kg, Venkataiah's prediction might just come true, thanks to a rising number of farmers jumping on the tomato bandwagon.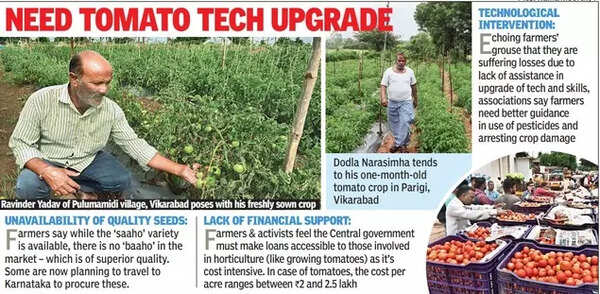 When TOI recently travelled through agricultural fields around Hyderabad's surrounding districts – Chevella (Ranga Reddy) to Parigi (Vikarabad) – it found several patches of land being prepared to experiment with the vegetable.
Buoyed by the exorbitant price rise, some farmers even confessed to having ditched their previous mainstays like ridge gourd, cabbage and chillies to concentrate on tomatoes. "I am trying to grow tomatoes on one gunta land (121 square yards). If it works out, I will expand," said Dodla Narasimha, who hopes luck shines on him when tomatoes get ready for harvest three months from now.
The next 90 days are crucial even for Ravinder Yadav from the district's Pulumamidi village, who has turned his focus from beans to tomatoes.
"This is my first time, let's see if I achieve success," said the farmer, only too glad to pose with his freshly sown crop. Turns out, almost all farmers from his village are following in the same footsteps.
"Everybody here wants to dabble in tomatoes. Soon, we might have a glut and people will be forced to sell their produce at dirt-cheap prices. I do not think we will see these rates again," reiterated Kamal Reddy, another local from the area, pointing to his tomato crop.
P Chengal Reddy, chief advisor to the Consortium of Indian Farmers Associations too is worried about this 'trend'. Especially since tomato cultivation is cost intensive – needs 2 lakh to 2.5 lakh per acre. "Also, there is not much being done to upgrade farmers in terms of technology, effective use of pesticides and arresting crop damage. In such a scenario, excessive production can lead to massive crop loss," he said.