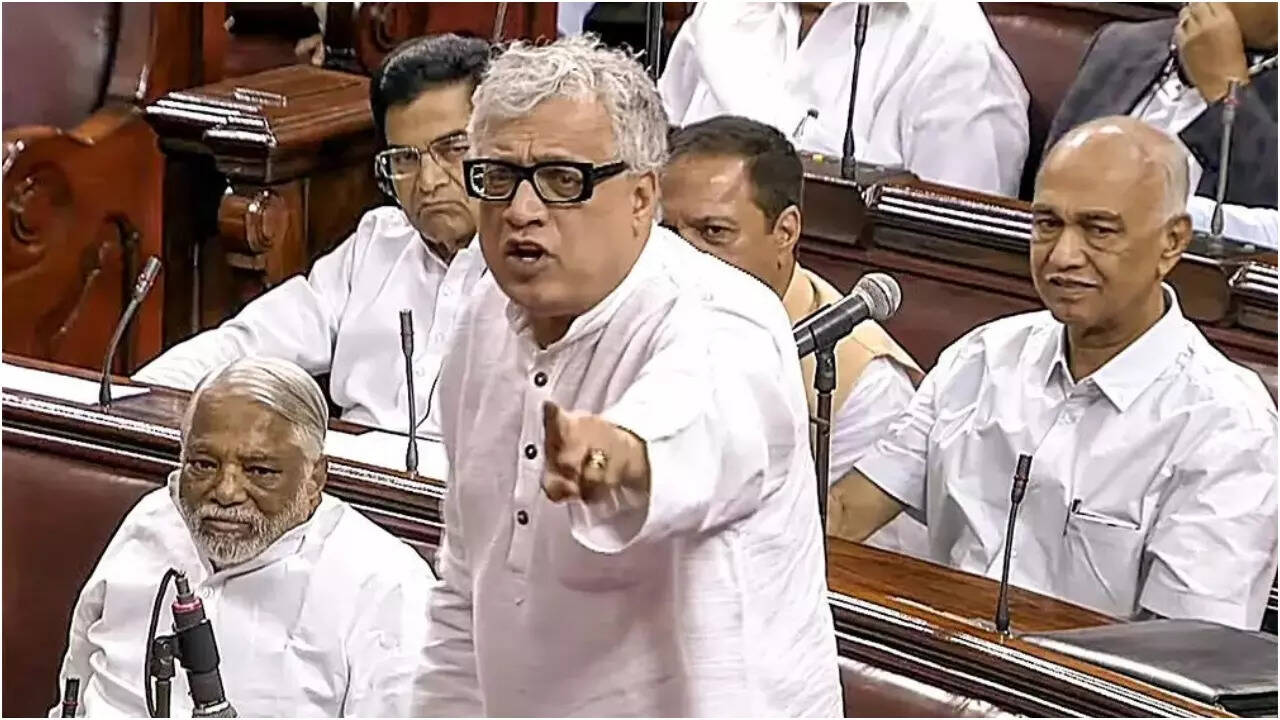 NEW DELHI: Rajya Sabha Chairman Jagdeep Dhankhar announced the suspension of TMC leader Derek O'Brien only to let him come back as the House reconvened post adjournment at 12 noon.
O'Brien was allowed to attend the House proceedings after Dhankhar said he had taken a "far-sighted" decision to not allow voting on the motion to suspend him which did not fructify.
Earlier leader of the house Piyush Goyal said he wished to move a motion for the suspension of O'Brien for the remainder of the session for continuously disrupting the proceedings of the House and disobeying the Chair, following which the Chairman announced the suspension of the TMC leader.
The House faced its first adjournment till 12 noon after Dhankhar named O' Brien and Goyal moved the motion for his suspension. The House faced two more adjournments till 12.45 pm and 2 pm.
When the House reconvened at 12 noon, several leaders, including Congress MP Pramod Tiwari urged the Chair to take a lenient view.
"If O'Brien would have been suspended from the House for this session, do you think he would have been allowed to enter the House again?" the Chairman said, adding that for him taking action against any member is a matter of pain.
"I have ended my own pain, no one has done that. If the motion was passed fully, O'Brien could not have entered the House again.
"He was allowed to enter the House as the motion against O'Brien could not fructify. I did not take that sense of the House deliberately. It is my obligation to ensure to an extreme degree that the House runs. I have been extremely accommodative whenever the TMC MP has come to my chamber and requested him," said Dhankhar.
For a member to be suspended from the House a resolution has to be moved and needs to be adopted. A suspended member shall not return to the House for the period adopted in the resolution.
O'Brien however objected stating he never visited Dhankhar's chamber between 11 am and 12 noon on Tuesday, following which the Chairman asked members of the House if such a behaviour should be allowed. "Do you approve of this conduct?" the Chairman asked.
Dhankhar however stuck to his views that O'Brien's behaviour was wrong. On this Congress leader Jairam Ramesh agreeing with Dhankhar said the Chair is supreme and he is the custodian of the House. Ramesh said: "I have no hesitation that O'Brien did not fully appreciate what you had been saying. He did not refer to your meeting today. He was referring to your meeting always," adding, "On behalf of Mr Derek O'Brien, he was mistaken. He was wrong. On his behalf, I am saying that he was wrong."
Watch Derek O'Brien escapes suspension: RS chairman Jagdeep Dhankhar allows TMC MP to attend House