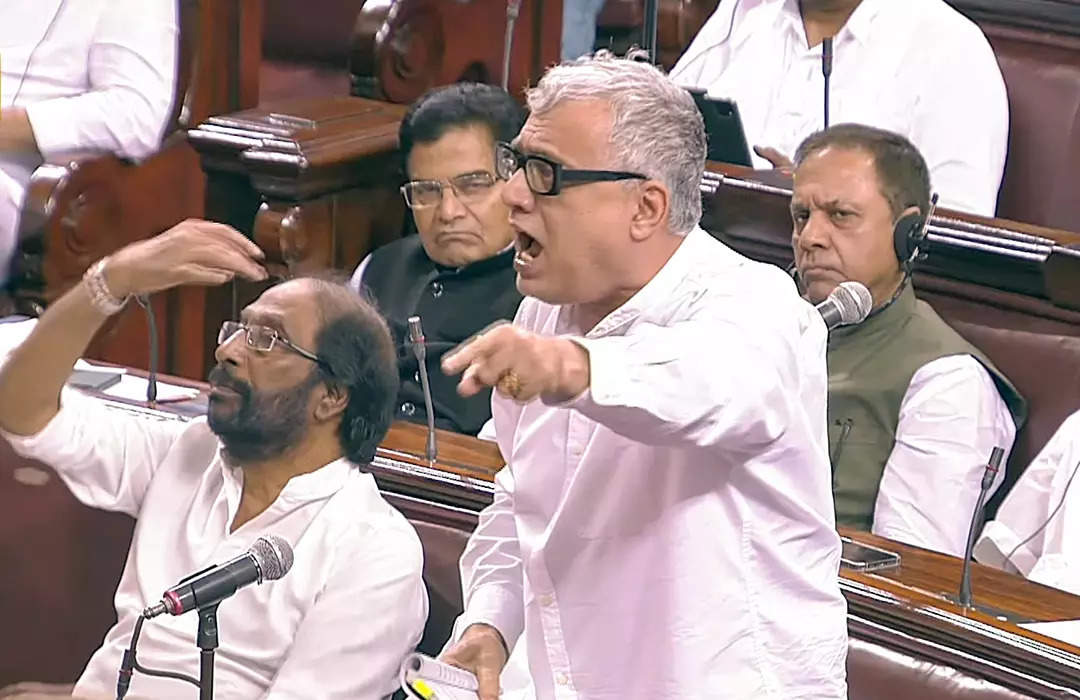 NEW DELHI: Rajya Sabha on Tuesday witnessed chaotic scenes over the suspension of Derek O'Brien with Chairman Jagdeep Dhankhar first announcing that the TMC MP has to withdraw from the House but later said the motion to suspend him was not put to vote and hence, he could continue to attend the proceedings.
O'Brien was allowed to attend the House proceedings after Dhankhar said he has taken a "far-sighted" decision to not allow voting on the motion to suspend him which did not fructify.
Several members, including Pramod Tiwari (Congress), urged the Chair to take a lenient view on O'Brien, but the Chairman asked why he should show leniency.
"If O'Brien would have been suspended from the House for this session, do you think he would have been allowed to enter the House again? Can he come back again?" the Chairman said, adding that for him action against any member is a mater of pain.
"I have ended my own pain, no one has done that. If the motion was passed fully, O'Brien could not have entered the House again.
"How he was allowed to enter the House as the motion against O'Brien could not fructify. I did not take that sense of the House deliberately. It is my obligation to ensure to an extreme degree that the House runs. I have been extremely accommodative whenever the TMC MP has come to my chamber and requested him," Dhankhar said.
Earlier, the Rajya Sabha Chairman had announced the suspension of the TMC leader for the remainder of the monsoon session "for unruly behaviour" during the debate on the Delhi services bill on Monday.
Derek O'Brien sought to speak by invoking the pretense of raising a point of order. When the chairman requested him to specify the rule he was referencing, O'Brien cited Rule 267, the provision that the opposition has been using to call for a discussion on the Manipur issue since the commencement of the Monsoon session on July 20.
This infuriated the chairman, who said he is naming O'Brien.
Following this, Piyush Goyal, the Leader of the House and Union Minister, moved a motion to suspend the TMC leader for the duration of the Monsoon session.
Hardly before Goyal had risen, TMC MPs hurried to the well of the house, chanting slogans.
Chairman had pulled up Derek O'Brien on Monday also.
The chair and O'Brien had a spat even during discussions on the Delhi services bill on Monday evening when Dhankhar accused Derek O'Brien of doing "theatrics" in the House to gain publicity during a heated debate on the Delhi services bill.
(With inputs from agencies)
Watch Watch: TMC MP Derek O Brien asked to leave parliament, suspended from Rajya Sabha monsoon session