NEW DELHI: As expected, the government and opposition traded charges on the first day of the debate on the no-confidence motion, with Congress leading the attack, attributing the exercise to PM Modi's 'maun vrat' (vow of silence) on Manipur and the treasury benches calling it a vote against a government which worked for the poor.
Initiating the debate, Congress MP from Assam Gaurav Gogoiasked why the government, despite talking of "one India", had created "two Manipurs".
"Through the no-confidence motion, we want to break his vow of silence," he said.
Union minister Kiren Rijiju said the motion had been brought at a "wrong time and in a wrong manner". He urged opposition parties to be "a part of the great journey to make India a developed country". "You may not like BJP or Modi, but you should support India," he said, adding, "You should not oppose India by assuming the name INDIA (opposition alliance)."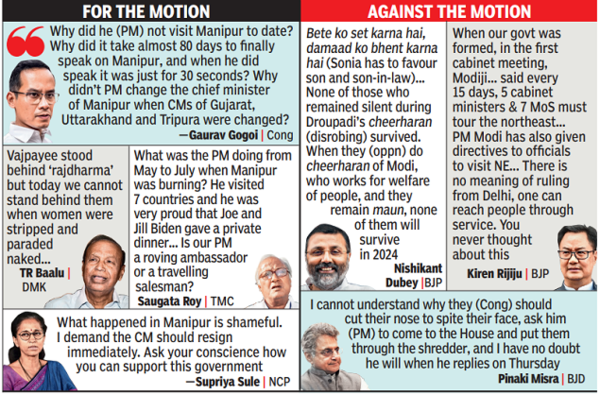 Starting the debate from the government's side, BJP MP Nishikant Dubey said, "This motion is against the son of the poor … against the person who tried to bring light in everyone's home."
Opposition leaders, including from DMK, Trinamool and NCP, invoked BJP veteran Atal Bihari Vajpayee to target the PM and remind him of "rajdharma".
On Wednesday, home minister Amit Shah, finance minister Nirmala Sitharaman, women and child development minister Smriti Irani and civil aviation minister Jyotiraditya Scindia, among others, are likely to intervene in the debate, sources said.
Watch We protected Mamata Banerjee when Left Front MPs prevented her from speaking during UPA-I: Kiren Rijiju